Shuttle Service for Wilderness Trekking and Hunting in Mt Aspiring National Park
(Minimum numbers may apply)
Wilkin River Jets and Backcountry Helicopters provide a shuttle service for hunting, trekking and hiking amidst the stunning wilderness areas of Mt Aspiring National Park, situated close to Wanaka New Zealand. Enjoy multiday trekking and hiking amongst lush native rainforest, alpine vegetation and ancient river valleys with access by scenic helicopter or jet boat safari.
Trampers/Hunters- pls click on the below link for Hut Bookings/Track info/permits/trip preparation
http://www.doc.govt.nz/parks-and-recreation/plan-and-prepare/
Helicopter Access & Transfers
Enjoy incredible aerial views of the National Park with our helicopter access for trampers, hunters and day walkers:
Top Forks – $170pp (min 4)
Kerin Forks -$125pp (min4)
Young Forks – $150pp (min 3)
Siberia Valley Forks – $125pp (min4)
Makarora Hut – $500 one way
Hunter Valley – $900 one way
Ferguson/Forbes Hut – $900 one way
Dingle – $900 one way (DOC permit required)
Albert Burn – $600 one way
Fish – $450 one way
Bonar Flats – $900 one way
Burke – $800 one way
Howe – $800 one way
Landsborough – $900 one way
Big Hopwood – $550 one way
Wills Hut – $800 one way (DOC permit required)
Maximum heli load – 4 passengers wih a weight total of 500kg.(this includes pilot weight)
River Taxi – Pick up or drop off Kerin Forks/Young river mouth
Jet boating transport for trampers, hunters and day walkers:
Kerin Forks – $110.00pp
Young River Mouth – $25 fixed rate per person (min 3)
rates include DOC enviromental fee and 15% gst)
Note: River taxi Tickets are non refund-able ( unless cancelled by WRJ due to weather/river conditons). They are only available to trampers/hunters or fishermen that are not using any aircraft services into the park.
Stand by tickets are allocated on a spare seat basis only, per trip, therefore drop off and pick up times may be amended to enable us to maximise our trip loadings and thereby minimise our carbon imprint / presence on the river. This will allow other recreational users of the river and the valley ie: trampers /walkers and fishermen better enjoyment of the Wilkin – with less intrusion on their natural quiet.
Pls contact us for further information if required.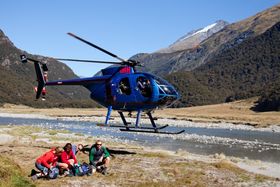 Helicopter dropoff for trampers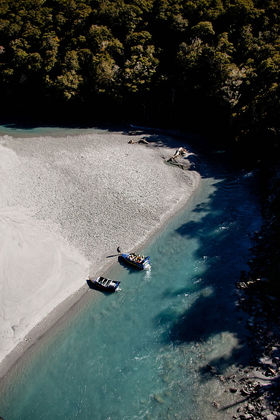 Jet boat access to Mt Aspiring National Park